That is a single Saladin armoured car. Why is this so important? Well, it is the last of my 6mm miniatures to be painted. I have painted every 6mm figure that I own!
I bought most of the 6mm off of trademe, so I ended up with a bit of a motley selection. To complete what I want for our Epic Moderns (Kool-Aid special edition), I needed to order more stuff. And if you are doing an order, paying postage, you might as well order a lot. So, I did that last night too! Hopefully heaps more 6mm goodness will be winging it's way to me as you read this, to complete both my British and my American armies. Once I have them all completed, I will put the pictures up on here.
If you can't wait that long, our next game of Moderns is on Friday, so I will post up what I plan to bring tomorrow.
So with more 6mm in the post, I have probably a fortnight before it all arrives. So to keep up my productivity, I have jumped on
Jamie's SAGA Lord of the Rings
bandwagon. Needing to choose something different to everyone else, I have opted to make a Minas Tirith force.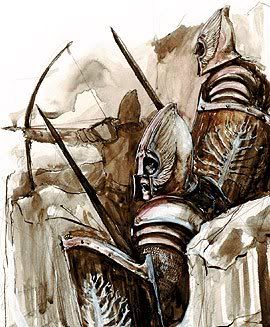 I picked up most of what I needed for them yesterday, and will hopefully finish all the assembling and get them undercoated tonight.
So that's what is on my painting table at the moment, must get cracking!
CP